The Young, Black, and Fabulous®
Jill Scott whipped out her afro to perform at the CMT Artists of the Year Awards to pay tribute to country singer Shania Twain. Meanwhile, Eminem blasts Donald Trump and his supporters on "Campaign Speech." Get it all inside…
YAS Queen!
Jill Scott said let me pick out this afro to celebrate country music. Yasss queen!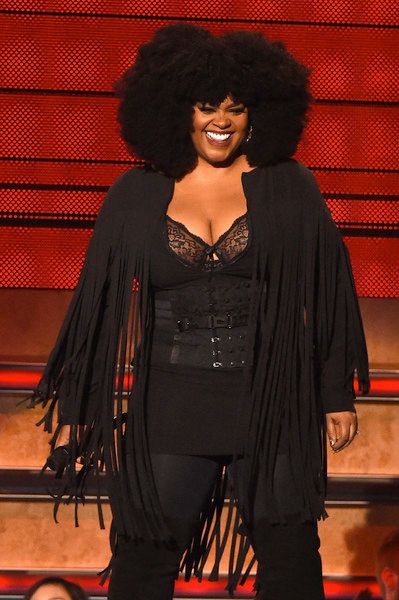 Last night, Jilly from Philly commanded the stage alongside Kelsea Ballerini & Meghan Trainor to pay tribute to country singer Shania Twain at the 2016 CMT Artists of the Year Awards in Nashville.
Fresh off her sold-out North American tour, Jilly rocked the stage at the Schermerhorn Symphony Center performing Shania's classic, "Man, I Feel Like A Woman." And she looked GREAT! That all black everything ensemble hugged her body like a glove. Naturally, we're loving her afro as well.
Before hitting the stage…
Chick worked this printed number on the red carpet.
Check out Jill's performance when the show airs tonight at 9/8c on CMT.
In new music….
Rapper Eminem, who celebrated a birthday recently, is ready to speak his piece on the upcoming presidential election. And it's clear, he will not be voting for Donald Trump.
On "Campaign Speech," he unleashes his thoughts on the presidential nominee over an almost 8-minute rant. There's no beat. No hook. Straight lyrics.
He raps:
"Consider me a dangerous man/ But you should be afraid of this dang candidate/ You say Trump don't kiss ass like a puppet?/ 'Cause he runs his campaign with his own cash for the funding?/ And that's what you wanted?/ A fuckin' loose cannon who's blunt with his hand on the button/ Who doesn't have to answer to no one?/ Great idea!"
Plan on supporting Trump on Election Day? Here's what he had to say about that:
"Run the faucet / I'm a dunk a bunch of Trump supporters underwater.

"Snuck up on 'em in Ray-Bans in a gray van with a spray tan."
What's interesting is that Em and Trump have history, per se. Back in 2004, Em hosted a party to promote his album Encore and the launch of Shade 45, his channel on Sirius XM. Guess who showed up? Trump. And he sang his praises as being one of the best rappers alive. We're sure his opinion will change after hearing this track.
Eminem announced the new track on Twitter and assured his fans more new music is on the way:
Don't worry I'm working on an album! Here's something meanwhile. https://t.co/QX3cdpqFD2

— Marshall Mathers (@Eminem) October 19, 2016
Get ready for new music from Slim Shady. It's been a while.
Photos: Getty