The Young, Black, and Fabulous®
Teyana Taylor and Iman Shumpert celebrated their 3rd wedding anniversary with a night out at the club. See their party flicks, plus what Lamar Odom and his new girlfriend Sabrina Parr has been up to inside…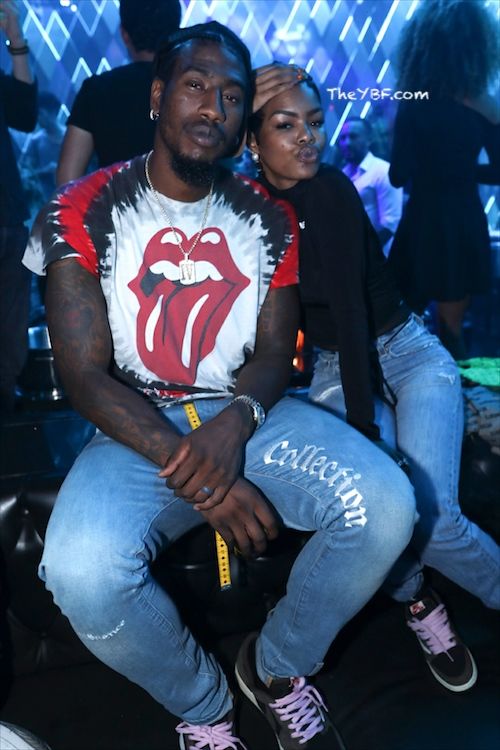 Partying with BAE!
It's been three years since Teyana Taylor and Iman Shumpert professed their love and decided to spend forever together as husband and wife. In 2016, Tey revealed on "The Wendy Williams Show" that she and the NBA star had tied the knot in a super-secret ceremony.
Shortly after, she shared a photo from their special day with the caption, "#TBT #SHMOOD Grab ya biker baby let's do it rite HERE rite NOW! …….It's nothing like marrying ya best friend. I love you baby…. A moment I will never forget. #TBT #LOVE #MeetTheShumperts#BestBuds"
Decked out in matching maroon leather jackets and bandanas, the couple – who are parents to 3-year-old Iman Shumpert Jr. (aka Junie) – said "I Do" to kick off their forever life. A year later, the singer/actress shared more photos from their secret ceremony on their anniversary:
View this post on Instagram

A year ago today we became ONE, in our biker jackets exactly where our child was born… I said "I Do" & I meant every bit of it from the bottom of my heart. I will forever love you baby, Happy Anniversary my husband, my lover, my best friend & my rock. My heart is given; oh do you give yours to me; we'll lock them up together, and throw away the key. – Fredrick Saunders : @justxfred #IssaHusbandAndWife
For their 3rd wedding anniversary, the "Gonna Love Me" singer posted a tribute to her husband, sharing a video collage of their special moments, including Iman's super sweet proposal:
View this post on Instagram

I love all love stories because I love love but ours are my all time favorite. I love yo fine ass with all of me. Always, forever…. @imanshumpert Happy Anniversary my love. 3 years of marriage down & a lifetime to go, let's ride put together by @Kvnhrtlss p.s. he got on one knee u just couldn't tell cause he big as hell. I love my big baby tho & yes I was pregnant as hell. lol
Love this.
Following their wedding anniversary, the couple hit the party scene in Miami to celebrate. They were spotted partying it up together at Wall Nightclub in the W South Beach.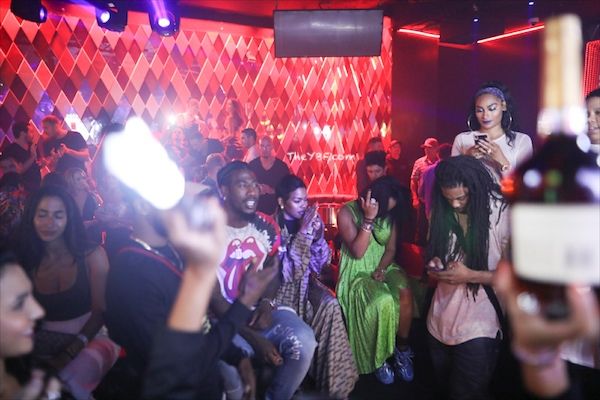 Also…
View this post on Instagram

Went to pick @babyjunie4 up from school yesterday in the middle of enjoying my anniversary festivities & i swear to god my baby da goat!!! She heard me complaining to iman about how my friends even including his ass at times can't take pics for shit & how every pic was blurry…. she grabbed my phone like say less mommy She caught them angles too & even had the nerve to get low wit it lmfaoooooo yo what ima do with this lil girl??!!! : @babyjunie4 I'm so happy iman caught this moment. Cause no one would've believed she took these pics
During the anniversary festivities, Junie made sure to capture some fire flicks for her mama. Swipe up above to see her catch those angles!
Happy Anniversary to The Shumperts!
Speaking of couples…
Lamar Odom is wining and dining with the love of his life.
The former NBA star and his girlfriend Sabrina Parr were spotted out in L.A. on their way to dinner. His woman – who is a personal trainer – rocked a fire blue jumpsuit with a plunging neckline while he wore a brown suit with sneakers.
If you haven't heard, LO and Sabrina will be making a splash on the reality TV scene with their new show titled, "Sabrina & Lamar." No word yet when it'll premiere or which network, but we'll keep you posted.
Also, Lamar has been putting in work during dance rehearsals as he tries to win the Mirror Ball on "Dancing With The Stars." LO and his girlfriend were seen leaving the studio a few days ago.
Photos: Startraks/Backgrid